Share
Tweet
LATEST HEADLINES:
One of the most anticipated genre movie releases of the year was My Name Is Bruce, starring the cult hero (or is that antihero?) Bruce Campbell (Evil Dead). Campbell is abducted from his trailer-park home to fight against Guan Di, a Chinese war deity. Thinking it all a joke, although thinking clearly is not one of his strong suits in this picture, Mr. Campbell discovers that it all is real, much to his shock and dismay. Mayhem ensues.


Follow up:
The fully articulated doll is formed from a 3-D scan of Campbell himself. Besides a custom fabric miniature version of his actual Hawaiian shirt, which was loaned to us by Mr. Campbell, proving that he's the kind of partner who would "give you the shirt off his back," an array of movie-specific accessories are included.
Two of these are miniature "angel" and "devil" versions of Mr. Campbell. They attach to his shoulders using hidden magnets. Additionally, we have:
Shemps Olde Tyme Whiskey
A Bruce collectible toy in melted package
Refreshing Lemon Drink bottle
A miniature Chins book
A big honkin' gun with price tag still attached
Puzzled? You won't be once you have seen the movie.
These are available through pre-order on most toy sites. (release June 2009)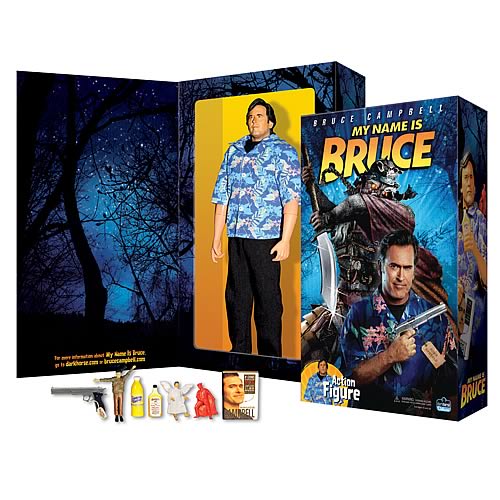 5 comments
10/21/10 @ 10:27
My english is just not good. Could u give me url to some translator? I want to be able to read this so mucho :(( ..
05/06/11 @ 22:57
most attractive people are "kang teacher" every day thousands of person bubble him.
11/02/11 @ 04:23
Your article is pretty nice and I like it very much.But at the same time, I want to share something which is pretty nice too.That is cheap dvds and I just want you to enjoy watching dvds in your recreational time.


05/28/12 @ 08:25
I know this web page presents quality depending articles or reviews and other data, is
there any other site which presents these kinds of stuff
in quality?
05/22/13 @ 22:14
I'm really enjoying the design and layout of your website. It's a very easy on the eyes which makes it
much more pleasant for me to come here and visit more often.

Did you hire out a developer to create your theme?

Exceptional work!
Comment feed for this post
Leave a comment