Since 2007 talk of a shocking mocumentary that shows "real murders" on camera entitled, "The Poughkeepsie Tapes," have been stirring around the general public. The movie trailer can be found easily on Youtube, but the whole film is almost no where to be found on DVD, Blu-Ray, or even Netflix. This film can only be found through shady second person websites as far as I know.
Plot Summary:
The Poughkeepsie Tapes is a mocumentary about a serial killer known as, The Water Street Butcher. Water Street documented all of his victim's kidnappings and deaths with a hand held video camera catching every detail of his actions. Like a regular documentary, this film shows various interviews with police personnel, medical examiners, loved ones of the victims, and many more people having to do with The Water Street Killer. Some interviews go into the graphic nature of the murders with very graphic found footage clips playing along as they tell what may or may not have happened during the killings. One victim in particular, which we hear about throughout this film, is a nineteen year old girl named Cheryl Dempsey. Water Street snuck into her house while she and her boyfriend were home alone, killing her boyfriend and kidnapping her. Water Street claims her to be his slave, dresses her in a dress, and a full face mask; he keeps her captive in a basement. Along with this story being slowly unraveled about his slave, we hear and see numerous other killings done at the hands of Water Street. The Poughkeepsie Tapes will take you on a journey, giving you a look through a serial killer's eyes. How the film ends will surely leave you on edge.
Director:
The director of this film is John Erick Dowdle who directed the movies Quarantine and Devil. Dowedle's directing on The Poughkeepsie Tapes was skin crawling and a real piece of art. He tried very hard to make the film like look a real documentary and he succeeded.
Acting:
As for the acting, some actors sold it very well and others I had a hard time buying into. It felt like some of the actors put up a wall that they would not let their emotions get pass.
Cinematography:
The cinematography was done by Shawn Dufraine, who also did the cinematography for the documentary Transcendent Man. I felt the framing of the screens were beautiful from the interview to the found footage.
Lighting and Sound:
I was very pleased with the lighting and sound. Nothing stood out to me in a bad way throughout the whole film.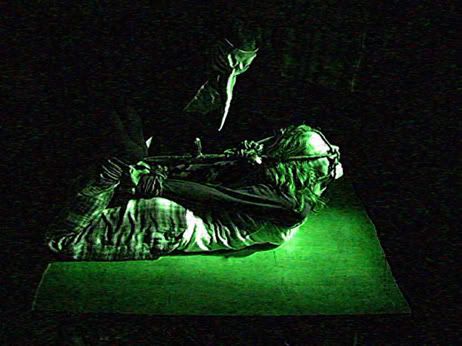 Makeup and Costume:
The makeup was pure magic! I loved it! But, it did bother me that there was not as much blood during a dismemberment scene as I thought there should have been. The costumes were all very awesome as well; I have no complaints.
Overall:
Overall I would give this movie a solid 8 out of 10. I would recommend this movie to those who love the horror and documentary genres. (Both are my personal favorites)
Interesting Facts:
-The director's wife, Stacy Chbosky, starred in the film.
-The movie cannot be found on DVD, Blu Ray, or Netflix.
-This may not be the last of The Water Street Butcher that we see according to this interview with the director.
http://blog.moviefone.com/2007/05/12/tr ... psie-tape/