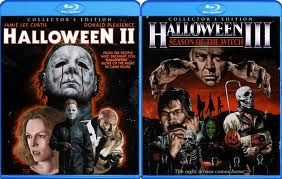 Well Bidites it's finally here! This week SHOUT! FACTORY launches their new home entertainment line, SCREAM FACTORY, giving us an ALL NEW Blu-ray/DVD release of HALLOWEEN II & III. Proving that they are on the cutting edge of horror home entertainment, these are top notch releases that every Halloween fan will want to revisit over and over again!
HALLOWEEN II
Starring Jamie Lee Curtis and Donald Pleasence, Halloween II follows the same ill-fated characters as they encounter the knife-wielding maniac they left for dead in the first film. It seems the inhuman Michael Myers is still very much alive and out for more revenge as he stalks the deserted halls of the Haddonfield hospital. As he gets closer to his main target, Dr. Loomis (Donald Pleasence) discovers the chilling mystery behind the crazed psychopath's actions. Written by John Carpenter and Debra Hill, Halloween II is a spine-tingling dark ride into the scariest night of the year.
EXCLUSIVE LIMITED OFFER: Order the Blu-ray or DVD directly from ShoutFactory.com and receive an exclusive "Haddonfield Memorial Hospital nurse's hat!" Less than 500 have been made, so these are only available while supplies last.
The 1080p HD transfer is magnificent! It's is truly the BEST the film has ever looked on home video! Even better than last year's release from Universal, the image is crisp and full of detail. The DTS-HD 5.1 Dolby Digital Audio track is an awesome mix that really brings the viewer into the film and brings the action onscreen alive with vivid clarity.
Here's a breakdown of the supplements included:
-Audio Commentary With Director Rick Rosenthal: Director Rick Rosenthal is joined by actor Leo Rossi who (who played Bud the paramedic) for this track which seemed to be lacking something. Leo was definitely the more engaging of the two, offering antedotes and on set stories, while Rosenthal seemed to be holding back. There are a few dead spots where the pair goes silent for a few moments, which kind of takes away from the overall experience. However, Rick does add some nice tidbits to the conversation. Overall, this track is for die hard fans only.
-Audio Commentary With Stunt Coordinator/Actor Dick Warlock: Dick Warlock (HALLOWEEN II's Michael Myers) is extremely fascinating in this track. Joined by IconOfFright's Rob G, the pair dive into the film as no one has before. Dick is spot on with discussing his motivation for Michael, the creation of the kills, the stunts of the film, and more! Rob does an excellent job moving things along and keeping pace with the film. There is never a dull moment in this track, it is constantly interesting and engaging that even the casual HALLOWEEN II fan will enjoy listening! This is definitely a favorite track of mine!
-The Nightmare Isn't Over – The Making of HALLOWEEN II: An awesome 45 minute look into the creation of the classic horror sequel. Rick Rosenthal, Tommy Lee Wallace, Dean Cundey, Irwin Yablans, Alan Howarth, Dick Warlock Leo Rossi, Lance Guest, Nancy Stephens, and more all talk about what went into making the movie as well as their reaction to its success. A very entertaining documentary!
-Horror's Hallowed Grounds: Host Sean Clark takes us on a fun ride back to the film's notable locations. This is a MUST watch, and I'm hoping it's included on future Scream Factory releases.
-Deleted Scenes & Alternate Ending: A nice collection of scenes that were cut from the theatrical version of the film, but featured in the Tv Cut. Optional Commentary By Director Rick Rosenthal is included, which is a nice treat.
-Still Gallery
-Theatrical Trailer, Radio & Tv Spots: Nice collection of vintage material! It was cool that even a spanish radio and tv spot were included.
******A second DVD includes the rare Tv Cut of the film, which is a killer bonus for fans which also contains a PDF of the HALLOWEEN II screenplay for download via the DVD!*******
Audio/Video: 9/10
Supplements: 10/10
Overall Score: 9.5
HALLOWEEN III: SEASON OF THE WITCH
A murder-suicide in a northern Californian hospital leads to an investigation by the on-call doctor, which reveals a plot by an insane toymaker to kill as many people as possible on October 31st through an ancient Celtic ritual and deadly Halloween masks. Starring Tom Atkins, Stacy Nelkin and Dan O'Herlihy, this third chilling film from the popular Halloween franchise is produced by John Carpenter and Debra Hill and is directed by Tommy Lee Wallace.
EXCLUSIVE LIMITED OFFER:: Order the Blu-ray or DVD directly from ShoutFactory.com and receive an exclusive 18"x24" poster featuring the newly commissioned artwork! Less than 500 have been printed, so these are only available while supplies last.
Scream Factory gives fans of this underrated sequel something to look forward to with this 30th Anniversary Special Edition that, like their HALLOWEEN II release, goes deep inside the movie! The 1080p HD transfer is great, definitely better than any previous release, but I feel HALLOWEEN II looks somewhat better. The DTS-HD Dolby Digtial 2.0 audio track is decent and should make purists happy. I know people will complain that there's no surround sound, but I've never heard the film any other way then it's presented here so I can't complain.
The real reason this release shines is its supplements, here's what you can expect to see:
-Audio Commentary With Writer/Director Tommy Lee Wallace: Writer/Director Tommy Lee Wallace is joined by IconsOfFright's Rob G. and Horror's Hallowed Ground Host Sean Clark To take you inside the movie as you've never been before. From it's origin to reaction after its initial release no stone is left unturned. I've always had a special place in my heart for HALLOWEEN III, but I grew to love it more after listening to this track!
-Audio Commentary With Actor Tom Atkins: HALLOWEEN III's Daniel Chalis gives extensive insight into the making of the film as well as his distinguished career. Some of my favorite moments are Tom's observations of Daniel Chalis and other characters. A MUST listen for Tom Atkins fans!
-Stand Alone: The Making of HALLOWEEN III: Writer/Director Tommy Lee Wallace, Tom Atkins, Stacey Nelkin, Irwin Yablans, Dean Cundey, and others talk about what some consider to be the black sheep of franchise. This 38 minute documentary is the definitive exploration of the film.
-Horror's Hallowed Grounds: Host Sean Clark and HALLOWEEN III Writer/Director Tommy Lee Wallace revisit the locations from the film including the Silver Shamrock factory and more!
-Still Gallery
-Theatrical Trailers & Tv Spots: More classic stuff from the vault, including the theatrical trailer which has never been featured on a release before!
Audio/Video: 7/10
Supplements: 10/10
Overall Score: 8.5
Overall these are solid releases. Audio and video, although amazing on HALLOWEEN II, are somewhat lacking on Part III. there are a wealth of supplements that should more than satisfy fans, and keep them happy for many Halloween seasons to come. Scream Factory has set a high standard for horror releases that will be tough to beat, I highly recommend these releases!