If you're looking for a little seasonal literature to accompany your Halloween movie lineup this year, one need only look to John Everson, who's crafted an unsettling tale of witchcraft, torture and revenge in the form of the engaging novel, The Pumpkin Man.
Everson plants a seed of evil directly off the western coast, in the small seaside town of River's End, where the tide shifts in a mesmerizing act of simple nature. Here, no face is foreign and secrets remain disclosed to one and all. The streets echo dark rumors of a man turned lunatic serial killer decades past; however, the legend of the Pumpkin Man is alive with buzz once more and the ever so sedate heroine, Jennica Murphy, sole inheritor of River's End's Perenais estate, arrives in town just as heads begin to roll once more.
The Pumpkin Man unfolds as one may expect a Halloween themed picture from the 1980's to play out: the characters are typical in every sense of the word: cliché good girl serves as the anchor to cliché wild child, River's End is the archetypical intimate community: strangers beware; and the plot twists themselves feel detectable 100 pages off. Having said all that, Everson not only makes it work, he makes it work wonderfully!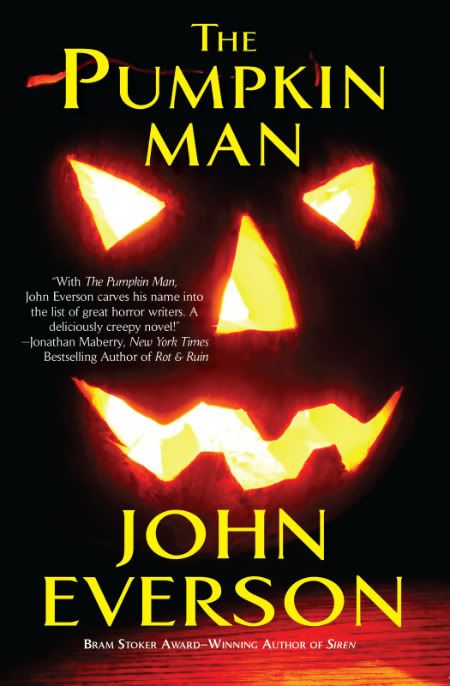 Despite the obvious expectations that our leads live up to, there are legitimately redeeming character traits in our players and those traits make for memorable identities. It's easy to care for Jennica, and her out of control roommate/best friend Kirsten, because, though generally predictable in nature, they respond to certain scenarios in extremely believable fashion. To be quite frank, John manufactures likeable young ladies who, while not the only focal characters of the story, are the ladies who steal the spotlight courtesy of charm and disguised seduction.
Although the first third of the book feels like a launch pad to every slasher story you've ever seen or read (the setup lies on the shoulders of a witch who, utilizing the dark arts, summons a murderous beast to unleash savage revenge on a string of locals), some clever maneuvering in the latter portions of the novel really alter the dynamic of the story. By the midway point, predictions can be discarded, and the blueprint that seemed so blatantly basic just a few chapters ago, suddenly feels like a manuscript of ancient hieroglyphs.
I'm anti-spoiler to the core of my soul, so it's a must I pull the reigns and prevent revealing too much, but I will say this: if Pumpkinhead fell in love with Lady Van Tassel, and the two somehow managed to commission an author to pen their life story, it would read awfully similar to The Pumpkin Man. That's not to say we're dealing with hideously disfigured monsters, maniacal step mothers, or a brazen ripoff of a tale, it's but a simple heads up: you should be able to identify some familiarities in the story.
When all is said and done, and page 328 is turned, I can happily attest to the talent tucked away in the pitch black corridors of John Everson's imagination. Everson is an excellent writer with an admirable depth of creativity who gives it to his readers straight. There's a simple nature to Everson's work that, though poetic in a strange sense, is certainly more Dean Koontz than Clive Barker. Regardless of coin-side, that's an enormous compliment. And regardless of how familiar you may or may not be with Mr. Everson's work at this point, if you choose to read this novel you'll soon find yourself seeking out the man's past works, as he clearly proves his worth with, The Pumpkin Man: a boldly brutal, unforgiving story that will force you to view jack-o lanterns in a whole new light come Halloween Night.
Grade: B
Be sure to visit
http://johneverson.com
to learn how to get your copy of The Pumpkin Man!