Anybody who knows me knows Horror is my life. The only thing I need in life is Horror, the Packers, and the Iowa Hawkeyes. When I heard about a Zombie burger joint I was naturally pumped! Not to mention it was opening in my home state of Iowa. Des Moines, Iowa to be exact which is just a half hour drive from Ames, Iowa where I live. I was just in shock to think that Iowa was the first ever to have a Zombie themed restaurant. I just figured L.A. or New York had such a place already that perhaps Iowa was just hopping on the band-wagon. Not that I was complaining. I'll eat at a Zombie themed restaurant any day of the week.
When I pictured a Zombie restaurant I pictured Zombies taking my order, and trying to eat my brains while waiting for my food. You know- Blood, Guts and Gore! Perhaps that's just the huge horror fan I am, but none of that happened of course. I pretty much knew going into it that you had to make it pretty respectable for every style of customer to get any sort of business. Let's face it, not everyone is a horror fan like us!!
Once you get into Zombie Burger + Drink Lab you start to take notice on how very simple, but yet modern the style of the restaurant is. It's nothing over the top, but has just enough style to make you feel as if indeed you are eating at a Zombie themed restaurant. Everything from the beautiful Zombie murals on the walls, to the extreme heart attack heavy burger menu. You really get what they're trying to accomplish with this restaurant. The owner is a die-hard horror fan, and he's just sharing that love with everyone else.
The Zombie Burger + Drink Lab has two ways of getting you Zombie filled food. They have a nice sit down eating area with a full bar, T.V.'S, and any sports package you could think of. The other route is the take out line. I went on opening day, so it was crazy busy on both sides, and they have small tables to sit at in the " fast lane area" if you will so I chose this route.
While waiting in line I looked over the menu and instantly loved what I saw. Names for burgers like 28 Days Later, Dawn Of The Dead, George Romero's Pittsburger, The Walking Ched, T-Virus, and The Trailer Trash Zombie were all pretty high on my list to try for my first meal. I decided to go with "The Walking Ched" while my roommate went with the 'George Romero." The Walking Ched was just out of control. There's really no other way to describe it. Picture this: Two buns made out of Mac and Cheese, two burger patties, cheese, bacon, and caramelized onions. Not to forget that the buns made of Mac and Cheese was deep fat fried! ( This place does not skip out on deep fat frying anything )
This burger was an absolutely amazing combo of ingredients, and my roommates George Romero which consisted of: Ham, egg, American cheese, fries, coleslaw, and mayo was also to die for. ( Yes that all comes on top! )
Zombie Burger + Drink Lab's prices are pretty standard for any burger joint I've ever been too. The 5 to 10 dollar range depending on what you get of course. Throw in some appetizers or one of their very own NJ Ripper's ( deep fried hot dog ), and you got yourself one heck of a meal.
My time at Zombie Burger was very enjoyable, and the workers were more than happy to have you look around at their undead work place.
Conclusion: Amazing. Good food. Great art work. Wonderful experience. If you're ever in Des Moines, Iowa it's worth the stop!!
Here's the offical website of Zombie Burger + Drink Lab if you feel like checking out their full menu!
http://www.zombieburgerdm.com/
Zombie Art Work
The Walking Ched Burger
The George Romero Pittsburger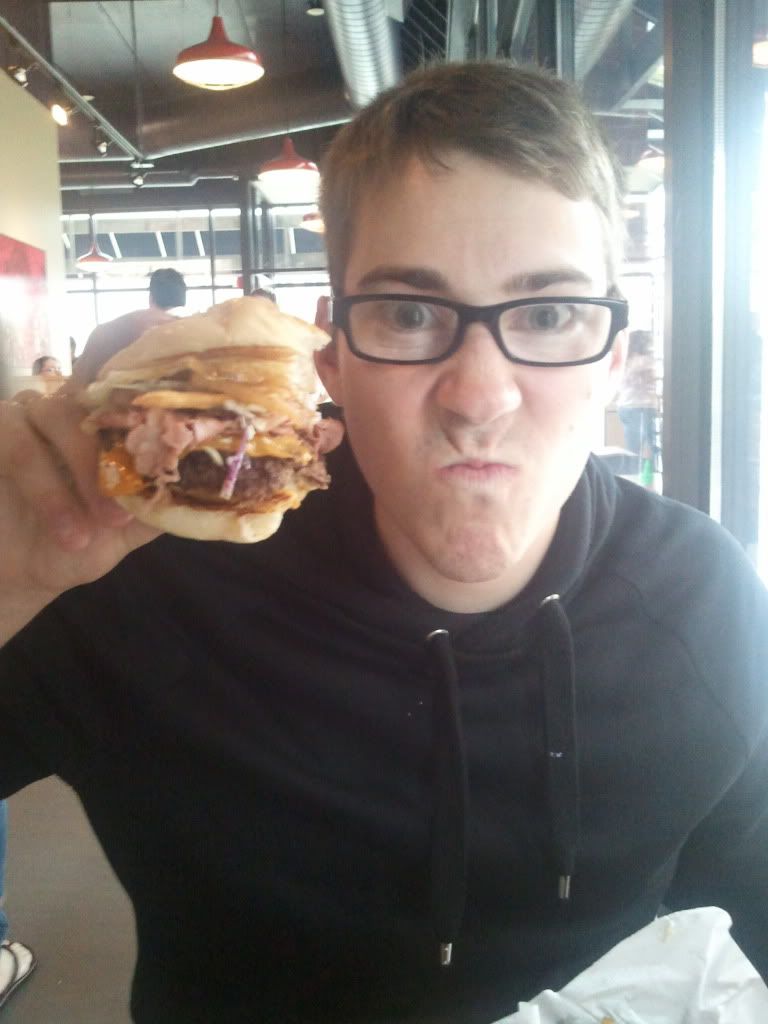 Go Hawks!
Zombies!!!!