The Top 10 Most "UNDERRATED" Horror Movies!
Earlier this year, HorrorBid writer Matt Molgaard wrote a great piece on the 'Top 10 Most
OVERRATED
Horror Movies' which was a fresh and interesting article that caused much debate and lots of opinions flying left, right and centre.
As someone who actually agreed with a lot of his choices, I wasn't interested in joining the keyboard-warrior battles that had begun. Instead, I started to think to myself 'what horror movies are the most underrated and unseen?'.
So, without further adieu, I present you with my top 10 Most
UNDERRATED
Horror Movies!
10. The Texas Chainsaw Massacre: The Beginning (2006)
: When I first saw this movie, I didn't like it at all. I found it boring and visually unexciting... But on a re-watch a couple of years later, I realised how good it actually is, especially compared to its remake counterpart that had been released 3 years earlier to huge success.
This time around the characters are much more like-able which makes you care for these kids more. The always impressive R. Lee Ermey returns and is more sinister than ever. The production value is raw and polished at the same time to give the film a nice edge technically and most of all what I like about this film is the hopeless and bleak nature of its narrative. 'Fuck hope and happy endings' is the mantra for this movie. If you like your horror bloody, grotesque and dark, give this film a shot. It's full of surprises.
9. The Wolfman (2010)
: This one I'll never understand. Now I get that despite it being a box office bomb, this was hardly unseen by the people. It did make approximately $140million globally... But I just don't get the backlash this suffered.
I know so many people who adore Tim Burton's 'Sleepy Hollow' (as do I) and yet hate this film! This remake was a reverent nod to the classic 1940s Universal horror films and the 70s Hammer House shlock, incorporating everything you'd want in an old fashioned werewolf movie. It's got the foggy woods, the campy gypsies, the rustic English country pub full of superstitious locals, 1800s London streets and the iconic image of the cursed wolfman howling at the full moon! If this doesn't entice you to watch this underrated remake then nothing will!
8. In The Mouth of Madness (1995)
: I have never met anyone that puts this film in their top favourite John Carpenter films. Sure the likes of Halloween and The Thing should come before it but this film never seems to get acknowledged for just how spooky it is!
When I first saw this I didn't know a thing about it and I think that's the best way to see it. It's full of surprises, twists and turns so take my word for it if you haven't seen it yet - grab some popcorn and buckle in for a fun and spooky ride!
7. House on Haunted Hill (1999)
: Please lower your pitchforks and burning crosses for a minute and hear me out. I admit this film is FAR from perfect. Hell, there are flaws all throughout it. But I believe this to be a hugely underrated horror movie because there is legitimately some good material in here.
The biggest flaw in this film is that it wants to be two different types of films, and mixing them together gives us a clumsy overall result. On one hand we have a classic throwback to the cheesy haunted house films, especially the whacky and over the top Vincent Price films and of course the Hammer House Studios stuff. On the other, we have a film that's really trying to be dark and terrifying. Blending the two of these together is just awkward and hence, we have a film that most people hate.
But honestly, this is fun rollercoaster film. The characters are fun (Geoffrey Rush's Vincent Price homage is a standout), the setting is a perfect set up for a haunted house flick and there are some truly scary visuals. Seriously, back in 1999 - the fast motion shaky head thing had never been done before (except for maybe shades of it is found in Jacob's Ladder) and put yourself in a room with no lights on and the volume turned right up - this will give you some fun scares!
6. Jeepers Creepers (2001)
: Now I'm breaking the rules on this one, but it's my piece so I can do what I want! I'm only rewarding this film an entry to this list for half of the film's length.
"Why?" You may ask? Because if there is any film that falls completely apart after a promising start, it's this one. But the opening half an hour of this film and its climax and final scene is 100% worth sitting through. It certainly achieves something that not many horror movies can do and that's really develop characters and make you care for them. So when you take these characters you fall in love with and put them in major jeopardy, the stakes are raised and you really really hope they get through this. Check it out, it's worth it if only for the very end scene.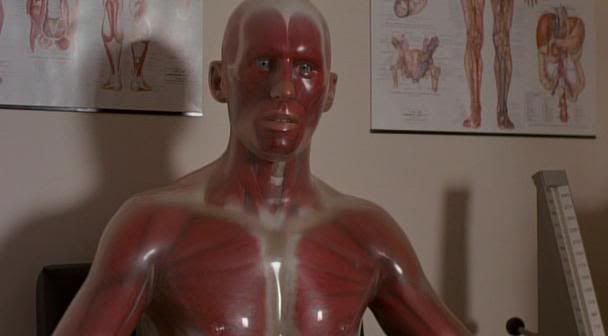 5. Pin (1988)
: Much like 'In The Mouth of Madness', I don't want to say too much about this film as not knowing much about it will certainly give you much more out of it than knowing a lot about it.
One of the most underrated actors Terry O'Quinn (who plays Locke from LOST) features in this creepy tale of a young family and a life-sized dummy....
4. Peter Benchley's The Beast (1996)
: Wait. Isn't this that ultra-cheese fest 3 hour long B grade TV movie written by that guy who wrote 'Jaws' and is basically the same story as 'Jaws' except it's a giant squid instead of a giant shark?
Yep. But I'll be damned to say this is one of the most entertaining horror adventures I have ever seen. Yeah it's cheesy and yeah you can tell they didn't have much of a budget to play with but I promise that it's really a lot of fun and what more do you want from horror movies? OK... it doesn't pack the scares at all, but this is very underrated because at a glance it is exactly what it looks like: a 3hr TV movie about a giant squid attacking a small town. But it's pretty damn good I tell ya!
3. Lake Mungo (2008)
: As a horror fan from Australia, I was shocked when I finally got my hands on a copy of this (courtesy of Joe and Tom from The House of Horror Podcast's recommendation) and within 10 seconds of watching it, I realised the film is Australian! It hasn't even been officially released here yet.
This is a horror film like no other. It starts out like a found footage/documentary style film and it becomes something really quite different. There are also some intensely scary moments in this. If you haven't caught on to this one yet, do it now.
2. The Woman in Black (1989)
: Forget the recent remake with Daniel Radcliffe. THIS is the business! I have said for a good 10 years now that this is the scariest film I have ever seen. That's a big call to make but I put a lot of that down to me first seeing this when I was no older than 7 years old and it has stayed with me.
If you want a really scary and effective horror film that doesn't rely on CGI, blood, gore and jump scares - get your hands on this ASAP!
1. Megan is Missing (2011)
: I have Joe and Tom to thank again for putting me onto this one. Actually thank is probably not the right word. The more appropriate term should be 'blame'.
Without a shadow of a doubt - this is the most fucked up and effective horror movie I have ever seen period. The fact it's a hardly seen film is shameful!
But be aware - It's not perfect. The set up for the film has some pretty bad acting in it from some of the small characters and it can move at a slow pace but once you get passed that, prepare yourselves.
This is disturbing as all hell. I am 25 years old and I have NEVER had a nightmare caused by a horror film... until this one. There is still one scene is particular that I haven't got out of my head and it probably never will go away.
Megan is Missing is a triumph of a film with an effective message to all parents and young teenagers. It should be seen but like I have stressed - it is not to be taken lightly, this is one hell of a horror romp and is the most underrated of them all!
What are some horror movies that you believe to be underrated?