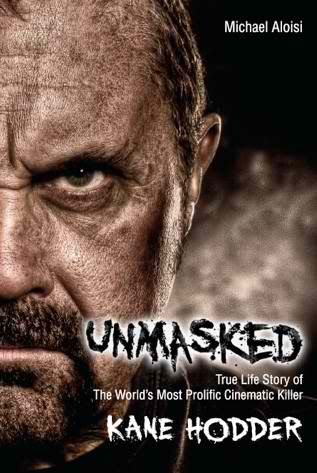 With Kane Hodder being my all-time favorite man in horror, I was salivating at the news that he and Michael Aliosi were going to collaborate for the first official biography of the "world's most prolific cinematic killer." After finally being able to order the book, it only took me 2 days to read. I just could not put it down.
From the onset it is apparent that Kane was not going to pull any punches with this biography. There are many stories of events that occurred in his early life that one might leave out of their biography. He revisits some very traumatic experiences that most definitely leave the reader sympathizing with him. One thing is for sure, I found myself being very emotionally invested in the contents of this book.
After an extensive, informative look at Kane's early years the reader gets insight into how Kane first got started in the movie business. One of the most memorable parts of the book was the section dealing with his infamous fire stunt gone wrong. He admits in the book that for years he made up a story about how he actually got the burns, being too embarrassed to share the truth. For the first time, in this book, Kane Hodder tells the exact story about how he came to have his burns, as well as a very thorough account of the treament afterwards. I will not ruin any of this here, you must purchase the book for yourself to find out.
My favorite part was later in the book when Kane goes into detail about the movies he's done. Being a huge Friday the 13th fanboy I loved hearing Kane tell the stories of things that went on on or around the set, as well as other tid bits of information. These sections are incredibly entertaining and informative.
You've probably seen Kane at conventions, maybe you've even been choked by him. He is always a class act and is very grateful for his fans. Show your support for Kane and AuthorMike by picking up this book. This is the most well written biography I have read in recent memory, and is definitely my favorite. If you are a horror aficionado do not miss this opportunity to learn more about one of the true living legends of horror. Go out and buy
Unmasked
today! You will not be disappointed.