Thanks to the kind folks over at
BlackFilm.com
, we finally have a couple of images that you can ogle over, featuring Halle Berry in a bikini top. The stills and promo poster are from the upcoming motion picture entitled,
Dark Tide
.
Dark Tide
is a
John Stockwell
directed feature taken from a script written by
Ronnie Christensen
and
Amy Sorlie
.
Halle Berry, Oliver Martinez,
Ralph Brown, and Mark Elderkin all star in this thriller.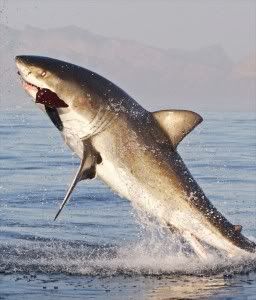 Plot Synopsis:

The action-thriller "Dark Tide" concerns a diving instructor, Berry as shark expert Kate Mathieson returning to Great White infested waters of isolated Guadalupe Island for the first time since her own near-deadly shark attack.

When her husband (played by

Olivier Martinez

) chooses ambition over his wife's safety in a split-second encounter with the jaws of death, Kate's marriage nearly breaks apart. A year later, a monsoon-season voyage back to the same island becomes an escalating series of terrifying underwater confrontations and gut-wrenching emotional challenges. Testing her courage in the face of nature's ultimate terror, she shows herself as tough as the men she is attracted to — and perhaps the bravest of all. Kate endures and changes the terms of the contest with mankind's most feared underwater predator.
Dark Tide is currently in post production.