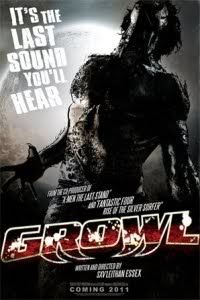 Directed and written by Sxv'leithan Essex and Starring Katee Sackhoff, Victor Webster and Dawn Olivieri.
Growl is an upcoming monster horror flick that looks like fight club VS an american werewolf.
The story follows a traveling underground fight club called 'The Brawlers' Which arrive at a derelict ghost town tucked away in the Colorado Rockies.
They meet the town's only residents, the Maxilla family who want to buy on to the fight card. But the Maxilla family's true intentions for the Brawler crew is soon revealed in teeth and claws. Some will be hunted, some will be feed, and some will become part of the family...whether they like it or not.
As still down as in-production There is no trailer yet to be found but a fantastic looking old school styled poster showing what looks like a pretty awesome werewolf.
Coming out next year i think this is one for the must watch list as the growl may be... the last sound you hear!