Zeke Pinheiro, co-writer and director of the forthcoming, The Cheerleaders Must Die! (I'm sure you've spotted our coverage over the last few weeks) took some time away from his frantic campaign to get the film into production to share some thoughts with you, the faithful Bidite nation.
For those unaware, The Cheerleaders Must Die! is a proposed slasher feature boasting well, you guessed it, blood, guts, and cheerleaders; all the things a hormonally driven genre fan needs! While the film's Kickstarter promotional campaign has yet to garner the full $7,000 required, the financial deficiency is closing quickly.
In just the last few hours TCMD's Kickstarter funds have risen from $4,400 to roughly $5,200; that's because people want a slice of the slasher pie. I for one don't blame them!
All numbers aside, there are multiple reasons to support this project, and the fact that Zeke's a great guy with a wonderful outlook is one of the absolute strongest incentives to invest. But enough of my babble, I'll let Zeke tell it…
Matt Molgaard/Horrorbid:
What exactly compelled you to get into the film industry? Any noteworthy films that really made you say "hey, I want to do that!"?
Zeke Pinheiro:
I have kind of been into telling stories my entire life. When friends would come over to play Star Wars or GI Joe, I wasn't so much interested in smashing characters in battle as I was in meticulously setting up scenes and developing plots.
Starting around the time I was 9, my birthday parties consisted of me inviting friends over to play the roles in scripts I had written and my mom renting one of those giant VHS camcorders from the video store so we could make a movie.
Basically, I was a really obnoxious kid.
HB:
Is horror a genre you've always gravitated toward?
ZP:
I've always loved horror movies and been fascinated by them. Growing up, I had a very over-protective mother so I wasn't allowed to see any of them, but luckily I had a babysitter that saw everything so when my parents would go out on Saturday night, I would make her give me a play-by-play of every gruesome detail of the movie she'd seen the previous night. The funny thing was, because of that when I got to see all those movies in my teens they rarely lived up to what I had built up in my head (except Aliens and Nightmare on Elm St. 3: The Dream Warriors).
HB:
Give me a bit of your background. Did you study film, and if so what specific aspects did you study, and where did you go to school?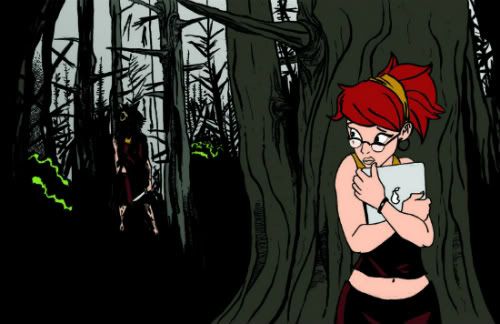 ZP:
As I mentioned above, I started making movies around the time I was 9 through high school. Which was a great learning experience (although the work put out was far from great). I also, and still do, constantly buy books on filmmaking and filmmakers. So a lot of my study has been very DIY.
I did, however, study film at San Francisco State University and graduated with a degree in film production. I would love to one day pursue a masters because I don't think you should ever stop studying. I think the filmmakers who stay relevant the longest never stop being students of the art.
HB:
When it comes to established industry figures, whether they work in front of, or behind the camera, is there anyone you really look up to?
ZP:
There is a story I heard about Sam Peckinpah. A biographer had brought him a manuscript about him and Sam read it, tossed it aside and called it something tactful like "fluffy bullshit." He then took the writer on a walk across the studio lot, all the while telling him of his headaches with the studio and how they kept interfering with his vision for the picture he was working on.
They came to a building. Sam unzipped his pants and told the reporter that this was the Studio Brass' building. As he pissed on their offices, he looked over his should to the biographer and said "we'll get it done, though."
I have always loved that story because, as filmmakers, we need to be fighters. We work in an industry driven by people who make their living saying "no." Its up to us as story tellers and artists to piss on their "no's" and get it done.
I look up to any director that takes their craft seriously. The ones that remain students of the game and truly give a damn in everything they do. You can't be in my generation of filmmaker and not admire the hell out of Spielberg, Coppola, Scorsese, Robert Rodriguez, Quentin Tarantino, John Carpenter.
There are the old masters, Kurosawa, Peckinpah, Leone, Corbucci, Ford, Hawks, Hitchcock.
And the new guys. Edgar Wright, Park Chan Wook (hell all of South Korea lately), Nicolas Winding Refn. I am also loving the hell out of the output from Ti West.
Sorry, I could go on and on listing people whose work I love.
HB:
Let's touch down on your forthcoming picture, The Cheerleaders Must Die! First off, where did the inspiration for the film come from?
ZP:
The inspiration for the film came from my producer Curtis Andersen. He had thought of the premise a few years ago with his friend and now wife Rene.
Back in 2008 he and I were at a party and I told him my take on it. Originally it was conceived as kind of a Troma-esque tongue-in-cheek kind of deal. I saw it more as something akin to Jaws. A movie that takes its time developing its protagonists so that the real tension is built from the fact that you are putting characters the audience cares for into peril. In a film called "The Cheerleaders Must Die," the audience expects a certain kind of movie, so why not give them something completely different that still delivers on the horror?
I am also a huge Jack Hill fan and have always admired his ability to build up incredibly strong female casts. The women in his films not only kick all kinds of ass but they are also flawed, yet likable. Human and interesting. That's how I wanted our Cheerleaders to be.
Curtis liked that take, and he let me run with it.
HB:
Do you feel as though you'll be able to bring some unique traits to the picture that may help it stand out from your typical "slasher" feature?
ZP:
When it comes to this film, my main focus has always been on creating memorable and likable characters. When I watch Jaws for the 10,042nd time, I don't put that DVD on because I need to see Bruce eating the dude in the boat again. I do it because I want to hang out with Quint, Cooper, and Brody.
I think a lot of times in slasher films there is more emphasis on the creative kills than the person being killed or the person doing the killing. So, although our film certainly won't be lacking in those kills that make the slasher genre such a fun roller coaster to be on, I aim to add some emotional weight to them.
HB:
Give us some ideas of what will make Cheerleaders shine where other films of similar nature have failed to do so.
ZP:
I don't quite know how to answer that. I would like to believe that no one goes in with the intent of making a bad movie. Since we haven't started shooting yet, I can't say where mine will succeed where other may have failed, but I can say this: I treat everyday like it is pre-production. Despite the fact that we are still seeking our financing, I use every day to better the script or develop my shot list. So when we do shoot this thing I'll be as prepared as I possibly can be.
HB:
I know that in addition to directing the film, you're also writing the script. How difficult is it as a young filmmaker basically spearheading an entire project?
ZP:
It is terrifying to be the writer/director on this but also beyond exhilarating. However, I can't say I'm spearheading the project. I have an incredible pair of producers on this thing whose input is honest and valuable as well as an incredible DP attached who has his own awesome ideas. With them there hasn't been any creative difficulty at all (knocking on wood).
HB:
Have you run into any unforeseen challenges in the creative process?
ZP:
I am actually quite blessed with the team we've put together. One of our producers, Myke "The Wolf" Michaels, is not only an Academy nominated and Emmy winning special fx makeup artist, but also an incredible stunt coordinator.
As I wrote the script I would try to keep our budget in mind and would try to stay fairly conservative when writing stunts and what not. Then he would take a look at it and be like "you see this part here, we could put a car flip in there, no problem." So again none yet (knuckles getting raw as I keep knocking on wood).
HB:
You've edited a good number of projects. Will you be editing Cheerleaders as well?
ZP:
It depends on what will best suit the picture when all is said and done with the budget. I would actually like to have an editor on this because film is a collaborative process and I would love another set of eyes on Cheerleaders.
HB:
Talk to me about the cast. I understand Shirly Brener is involved, and she's got some good credentials under her belt already. Will she be fronting the film, and who else are we going to see take part in the picture?
ZP:
Shirly is a friend of Myke's. After he read the script, he said I had to meet Shirly. So I met with her and besides being a truly gifted actress she is also one of the coolest people I've ever met. Something I like about her acting work is that she understands tone. If she is in a Syfy movie she is going to give a very different kind of performance from the one she is going to give in a film like Righteous Kill. She does her homework on the script and asks all the right questions then comes up with some brilliant answers on her own. And if you just look at the photo of her we have up on our kickstarter page, she is the kind of beauty Mario Bava would have cast. Really haunting eyes.
HB:
Examining the overall idea of the film; the directions you aim to take; revelations you plan to unveil, what film (or films) could you draw comparisons to?
ZP:
I think when the film is complete you will find a lot of the same DNA in our film as The Burning, Texas Chainsaw Massacre, Halloween, Scream (for the mystery component rather than its self-referential perspective) and Mario Bava's Blood and Black Lace. I love the sardonic look at the fashion industry in Bava's early gialli and kind of took cues from that in the way I want to explore the main theme of our film, which is the toxicity of high school nostalgia.
HB:
How is the KickStarter campaign going for you?
ZP:
It's been a nerve-wracking experience with me obsessively updating and checking our status for the last month, but it's also been a rewarding one. We have had a blast creating videos and web-content for it, I have gotten to talk with some incredible people (yourself included, Matt) and during these last few days the outpouring of support has been incredibly touching. The campaign, in short, has been awesome.
HB:
When all is said and done, what's the goal? Will we see this flick make a strong festival run, or will you be bypassing that avenue and looking to get this straight out on disc with a distribution deal?
ZP:
I would love for it to play festivals. There is nothing like playing a film in front of a festival crowd. We actually have a couple distributors already looking at us, but we needed to do something more to convince them to come on board, hence the Kickstarter.
Getting a film off the ground is always a Herculean task, but with the economy the way it is people need a lot more convincing. With the funds we raise we'll be hiring a casting director who will be getting our cast in place and a storyboard artist so we can fully pre-visualize the film.
HB:
Anything you'd like to say to those who are supporting your cause?
ZP:
Thank you! That doesn't even come close enough to my appreciation of their support, but thank you. I am so incredibly grateful for every dollar, re-tweet, and post on blogs or facebook.
You can help with the Kickstart campaign here:
http://www.kickstarter.com/projects/1371792136/the-cheerleaders-must-die