Here ya go

James (jc_70) and my KH SLE




Deathrisingup and his girl Niki...By the way she does the best Meatwad I have ever heard.




KH SLE and the DW




Look at Greg "The Hammer" Valentines crutch and the knee brace. Seeing the wrestlers there reminded me of the movie. My wife and her dad used to watch Wrastlin all the time when she was growing up. Here Dad passed quite a while back. She was so excited to meet them. Greg got her for 40 bucks. 20 for the auto and 20 for the picture with him. All the wrestlers wanted so much money like they were the stars at the horror convention...Thats right a HORROR convention. Brutus was personable and The Nasty Boys were awesome, and what can I say about Jake the Snake, but he is real personable. He offered to show my wife his snake. The he started to act like he was going to zip down his pants...lol




Lee Lambert and his gorgeous bride as Zombies for there renewal of wedding vows.




Me as a Zombie




Me as Loomis and Chase as well you know!



I think Gloria Gifford just passed us stat. j/k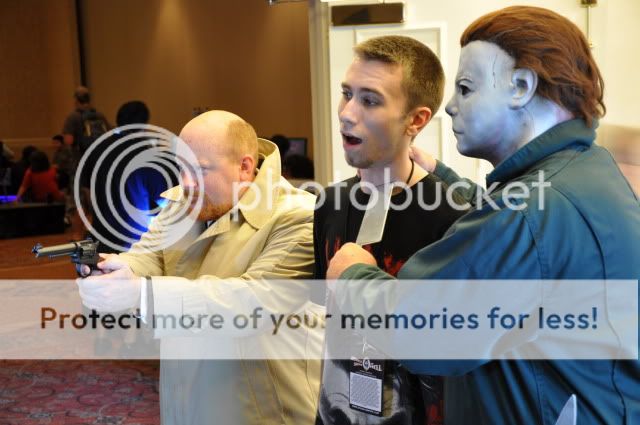 If I remember correctly Dick was saying I was an awesome Loomis, I told him no one is better than Donald, He said "oh no you are the best"...j/k




The I shot him six times...lol




This chick was all over Myers, but secretly she wanted Loomis...haha




Later I found a better Joker, but didnt want to waste time with it.




I will add more later.