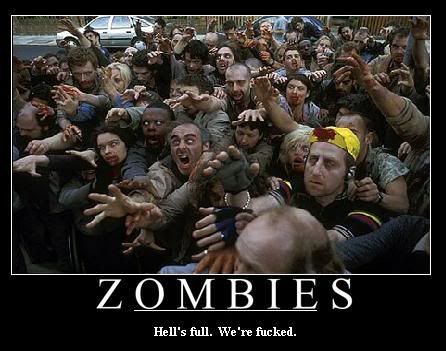 Here we go again! The continuation of my zombie story! What do we have here... A group home crisis, tragic...tragic! A girl frantically searching for help. Let's pray... We have Scott hoping to God this poor old woman he hit with his truck is still alive. Good luck, Scott! And John Berg receiving a little mouth action from a hot blonde name "Jen-Jen". Jolly Good! The story continues!
Don't Forget Your Helmet: Chapter 5-7
Chapter 5.
After Tiffany had ran up the street in the pouring rain, Scott's attention turned back to the old woman laying there in her filthy mudded dress. His hand grasped hers. It was clammy; it felt more like a rubber glove left out in the cold damp rather than the hand of a living being.
"Ma'am? You alright? Ma'am, can you hear me?" Scott spoke softly, as shivers of anxiety traveled through his body.
He checked her pulse on her wrist. Null. Checked her pulse in her neck. Void. This woman was dead. And then contradicting that diagnosis, she opened her eyes. What happened next happened so fast, the initial memory of the fact was nothing more than a blurry tragedy. First the eyes opened, and Scott took only a brief moment to stare into the muddy, dead incognizance of what those eyes conveyed. There was nothing in them. No sight, no recognition, no humanity. And that's when she suddenly leaned forward and sunk her teeth into his forearm rending a mouthful of flesh from muscle, tendon, and whatever else was attached.
And then the noise she made, something guttural, it sounded like 'braaaaah'. Scott recoiled, but not fast enough. Flesh tore from his arm, and either by instinct or anger his fist pumped and hit her square in the nose. There was an audible crunch, and then he was shaking hands with this woman's brain. He quickly removed his hand from the woman's head, and a sickly yellowish grey matter adhered itself to his hand. With a look of flummox and disgust on his face, he quickly wiped his hands on his jeans and back pedaled on his rump and hands away from the old woman. His maimed arm was now covered with blood, and the realization of the pain was beginning to take effect.
"Crazy fucking bitch!" Scott screamed in exasperation.
The form in front of him laying prone began to twitch. The old woman sat up again, now with her face destroyed. The squelching sounds she made this time were something like what a lamprey would make, attached to the hull of a ship, sucking barnacles. She reached for him. He back pedaled further, got to his feet clutching his ruined arm. She began to crawl toward him. Hands finding purchase in the gravel on the road, the rain draining a dark yellow squelch of liquid down from what remained of her face. It looked like Gulden's Spicy Brown Mustard.
Instinct resurfaced. His mind swam crazily to the Saturdays of football games, he had enjoyed so much. It was time to kick a field goal. He closed the gap between himself and whatever this woman was, and kicked her square in the face. Complete obliteration was the effect of this action. Her upper jaw took the brunt of his boot. The top of her head was removed from the rest of her body and flip flopped through the rain, landing almost a block up the street. The body collapsed.
Thoughts now raced through Scott's head. First and foremost,
What the fuck just happened?
Secondly,
Did I just kick a woman's head off her shoulders?
Thirdly,
What the fuck just happened?
These were legitimate analyses. And moments later, before these thoughts could be reconciled and answers given, the woman began twitching again. She sat up for the third time. In the short distance, voices could be heard. Unintelligible, guttural sounds. And then a rattling.
The headless woman shambled around aimlessly with arms outstretch. Scott's mind whirled. There was a smashing sound, like stone on metal. And a moment later another. And then another. Scott turned toward the sound of the clanging and to his horror, the cemetery gates burst open. From inside came several...several what? People? They looked more or less like people, but Scott knew instinctively he had somehow driven his truck into an episode of
The Twilight Zone.
No way, Jose. These weren't people. These were something else. Who breaks out of a cemetery except for the corpses inside? There were six of them. Six that were
visible
. It appeared these things had helped to lift a cross-shaped tombstone and used it as a make-shift battering ram. The resounding crash it made, having fallen to the sidewalk echoed in the gloom like gunfire.
Time to beat a retreat, Scotty boy
.
He scurried back to the truck, got in, went to turn the key in the ignition, and the thing snapped in half. He held up his hand in horror, looking at the piece he was left with.
No way. No fuckin' way
.
This is all a bad dream. Someone wake me up, WAKE ME UP!
He checked the ignition, trying to either pry out what was in there, or turn it somehow.
Pliers, I need pliers.
No pliers to be found. They'd be useless at this point anyway, as the key had broken not at the base where he grasped it, but further in. Against all physics and logic, it actually broke further in.
Now there were as many as 14 of those suckers out and about. Most of them had fanned out in all directions, each taking their own path.
Got to get out of here
. And as if his thoughts were road flares, several of the walkers appeared interested in his truck. They shambled over, 3 of them, all in various states of decomposition. Scott exited the truck and bolted a bee line straight for where he saw the only lights, far up Dawson Street. Much like the Pied Piper of Hamelin, his followers pursued in tow.
He hoped it was the direction Tiff had run in, but he wasn't certain. Whatever that woman was, it wasn't human. Or she was at one time but no longer. And now she had company.
Was it murder? Could you kill something that wasn't alive to begin with? Just what the fuck was that? A woman, a corpse, a what?
He didn't know. Didn't want to know at this point. He wanted Tiffany and safety and not to be in the road with these things in the street any longer.
The truck's door remained open, the lights still on and draining the battery, the remnants of the key still in the ignition. The cops would come surely. How long could an empty running vehicle stay on a road without causing some kind of reaction? And Tiffany's dad? Did he call the cops after all? He ran through the dark and the rain, pain throbbing, blood gushing profusely from the open wound. He wasn't fully aware of the funny thoughts beginning to surface in his subconscious already, but they would take precedence soon enough. There was a hunger building. A hunger not for burgers and fries. And something else.
Something foreign was stirring. It felt like his mind was...
having company over for dinner
. There were his distinct thoughts, and there was what could only be described as
Another
also forming thoughts. As strange as that sounds. There was a 2nd
Will
at work independent from his own; somehow correlating to his newly discovered hunger.
Scott found no one home at #11 Dawson St, although it seemed every light in the house was on and an SUV was in the driveway. Either they weren't home or weren't planning on answering the door for anyone. Where the fuck is everyone? No cars on the road? Further up the road a junction became the very end of Fuller Street to his right, and the beginning of Mobile Street to his left. He decided to turn left stealing quick glances over his shoulder. The things behind him were still following, although at a slower pace. They couldn't run, but they could sure power walk.
Chapter 6.
'Hello, my name is Jimmy Pop and I'm a dumb white guy'
'I'm not old or new but middle school, fifth grade like Junior High'
The Bloodhound Gang blasted from the speakers with an old favorite, "Fire Water Burn" while Tim passed a blunt to Joey at John Berg's party. It was some very good bud, Tim had said earlier.
Got it from this black dude at County
. Tim Thornton studied music and English. What he should've been studying was math (or at the very least, business economics) because
The Black Dude
charged $80 for the measly 3 grams that barely filled the unimpressive home rolled cigar wrapper joint that was now smoldering in Joey Trudett's hand. Joey nodded, and pulled deep off the joint, held his breath.
"So yeah, greatest pickup line ever. Hey baby, can you tell the difference between my penis and a chicken leg? No? Want to go on a picnic?"
A cough, something like a choke, and a massive stream of sickly sweet guttering smoke escaped Joey's mouth, followed by staccato laughter.
"Dude, don't make me laugh man, I just wasted that hit!" Joey punched Tim's shoulder.
"Yeah dude... That shit gets me the ladieeees!" Tim added.
Joey was always the small guy. Everywhere he went, everything he did, everyone he met, he was always the guy looking up during conversations. All through grade school, he was the kid in the front row during the class pictures. Always the first guy to get drunk, first guy to pass out. He just didn't have the physical and mental tolerance for substance abuse. He wore thick black glasses, making him appear studious and something of an intellectual. He was neither of these. What he was, at least in the face of his peers, was a "tag-along". No one memorable, just another guy at another party. He was one of those guys who hangs around a group long enough that simply by tenure, he becomes a part of it. That isn't to say he wasn't liked; just simply accepted by virtue of his continual presence. He would be missed, but forgotten in time. He will become the subject of a happenstance. Subject matter that idly comes up in conversation years after an event has passed.
Oh, Remember Joey? The short guy with glasses right? He died, didn't he? Yeah, I remember he used to hang out with so-and-so's group.

"Man, I'm just fuckin' stoked the power's back on. Being stoned in the dark is like…like…" Tim trailed off.
A dormant, sleeping, waiting corpse.
He had wanted to say something along those lines, but could not find the words. Words seem to matter less when stoned.
The power turning back on was a good thing indeed. It was almost 2 nights of dark and silence. It could've been the rain, could've been a hundred things. To those people who didn't know the truth, the lights just shut off. TVs just turned dark. Someone somewhere was playing his or her favorite video game and forgot to save, and then ZAP, an entire day wasted. And then the power came back on early in AM. Some news reports had suggested it was simply a power brownout in a two town grid. Other reports indicated a mishap at NJCP&L, board members refused comment but continued to ensure that the problem was being addressed.
Ca-Ca-Ca-Ca-COMBO BREAKER!
announced from Joey's phone. He had this thing for video game ring-tones.
"Holy shit dude, Abby just texted me something crazy. She says down in Byram there's some kind of riot. Police have blocked off Route 206. She thinks it's some kinda PETA publicity stunt or some kinda anti-abortion thing." Joey explained.
"What the hell ya talkin' about? She's not coming?"
"Nah dude check this out, she says there are people dressed up as fuckin' zombies can you believe that? And they broke into a pet store or something. She thinks they tried to free the animals or some shit. Now they're fighting the cops. This is crazy. Maybe it's on the news."
The truth of the matter was this: Those weren't costumes, and they weren't trying to free anything. The waterways flowed to more than one cemetery sprinkler system. The public cemetery of Mine Hill was one of the largest in the entire state of NJ. It catered to Morristown's business district. The tainted water most certainly flowed there. The next town over from Stanhope, the town of Byram was only slightly smaller. The situation was not understood at the time, but that is irrelevant. Stanhope was now in caught directly in the middle of the early beginnings of a zombie epidemic.

The local Byram dog warden had shown up after a call from an anonymous source reporting that several stray dogs were seen running loose and without tags on the street. The caller was especially worried that these dogs might have rabies. It became evident that the dogs had escaped from B.A.R.K.S (Byram Animal Rescue Kindness Squad), an animal protection/adoption sanctuary that received public charitable funding supporting their "No Kill" policy. It became further evident that the dogs did not escape on their own. Several kennel cage bars were crudely broken into and there were blood trails and footsteps that indicated a struggle. There were several persons huddled and crowded around some unknown, obscured mass. When Dave Hicks of Byram Animal Rescue shined his flashlight into the crowd, to his absolute disgust and horror, a man turned; he had what appeared to be the hind leg of a Golden Retriever in one hand, and a human foot in the other. And viscous gore was seen to be dribbling out of his slack jawed mouth, onto his dirty suit jacket lapel as his vacant dead eyes stared out into the Great Nothing.

The police were then called; The most horrific descriptions of animal cruelty ever reported to the Byram Township Police Department in 57 years of service to the community. First the police showed up, and then the onlookers came out, and soon after the violence began.

Those police handling the "riot"? Oh they disbursed with all of the proper formalities. Hands above your heads! You're under arrest! Cease and desist! Freeze or we'll open fire! And when none of the former worked, they certainly did open fire; and bodies dropped. But then the utterly remarkable happened. They got back up again. And so the police fired a second time. And a third, and a fourth. And then they got back up yet again. Guns only contain so many bullets. And when you run out of those, what good are guns? What good are words? And when it was witnessed in horrific stark detail after Police Chief Rafferty's gun went -click- and went -click- again, and nothing came out of it...then he was mauled by 6 of those fucking things; mass hysteria encompassed the town of Byram. Which, was right next door to Stanhope.

The doorbell rang.
"Dude, you expecting Cindy?" Joey asked.
"She didn't text, but could be." Tim replied. Now an urgent knocking.
"Dude, what if it's the fucking cops?"
Joey raised a good point. Loud music summons the police. It's a law of nature. Tim quickly extinguished what was the left of the blunt and placed the baggie of marijuana under the leather couch he was reclining on. In his zeal for expediency, some part of his anatomy bumped the coffee table, spilling several opened beers. Joey got up, lowered the music.
"Fuck!" Tim exclaimed. Knocking turned into a female's cry for help. Something, something, please help.
"Dude there's a chick outside, what the fuck if she doing out there in the rain?" Joey chimed in.
"Maybe she wants to borrow a cup of sugar, how the hell should I know? Do we answer it?" Tim asked, mopping the damp puddle in the rug with paper towels.
"Who's at the door?" came a yell from upstairs.
"I dunno man, some chick just keeps banging on the door, she a crazy ex or something?" Joey yelled back.
"Ah Jesus, what in the hell…" John's voice trailed off.
Jen-Jen shuffled off the floor and got up abruptly.
"Everything ok love?" she asked, concerned.
"I dunno, those jack-holes downstairs don't know how to answer a damn door. Help me up".
The fun interrupted, and mood suddenly changed, Jen-Jen helped John out of his chair. His one good leg stood firm on the ground. The other leg was left back in Mosul. In its place was attached a titanium and carbon plastic polymer prosthetic. He still required a crutch to be somewhat mobile, but at least he could walk. He got up, hobbled to the door, and began descending the stairs with Jen-Jen in tow. Banging on the door resumed.
"See who it is Joey, Jesus!".
Joey opened the door. Tiffany's hair was plastered to her head, clothes sopping wet. What scant makeup she wore was trailing down her face. She looked distraught.
"Help me, please! You've got to help me right now, my boyfriend hit someone with his truck. I need to call the police or 911, anything. Can you help?" She pleaded.
Uneasily, Joey ushered the distraught girl into the house.
"Girl, take a good whiff. Smell that? We ain't calling the cops." Tim interjected, firmly.
"Please you've got to help me! It's an emergency! I need to use a phone!" shouted Tiffany exacerbated. She grabbed the front of Tim's grey hoodie in clenched fists urgently pleading her demands.
"Jesus lady! What kinda shit are you on? Chill the hell out!" Tim replied, removing her hands from his hoodie.
John was down the stairs now, Jennifer "Jen-Jen" Hulse by his side. She had first found John on a 'Recovering Veterans of War Support' mailing list six months ago posted at Hyatt Regency Grand Hospital in upstate NY where she worked part time as a Pharmacy Aide Technician.
She thought it would be nice to send 'Get Well' cards to the cuter Iraq War vets that were still in recovery. She had learned of John Berg's story from a sponsorship mailer that was sent out once she had signed up and found him quite attractive. They had gotten to know each other through the mailbox and then exchanged cell phone numbers. She sent in a few pictures of her own tits (which nearly got John into hot water with his commanding officer) and promised that if he got well, he could see them in person. He in turn sent her a picture of what was left of his leg. Something of a test. When she continued correspondence without any misgivings of shallowness, this was quite a morale booster.
And 6 months later here she was, having what until recently was a very enjoyable evening with some new friends, a returned war hero and some booze. And then the tone shifted, and the music stopped and now she was beginning to regret having come here.
She was a gorgeous blonde with legs to die for but dealing with the stress of uncertainty made her neurotic and apprehensive. And now she felt trapped in this situation 4 hours away from her home as the tone went from giddy fun light-headedness to approaching serious.
"What's your name, and what happened?" John asked. Tiffany recounted the day's events.
"Alright, let's handle this shit right now." John dialed 911 and handed Tiffany the phone. The line was busy.
How the hell can the line be busy?
She hung up, dialed again. Busy. She called the local Stanhope Police Department.
"Stanhope Police, how can I help you?" came a somewhat irritated female voice the phone. Her grizzly voice sounded like she had been smoking since the age of 6.
"My name is Tiffany Mills, I need help. My boyfriend hit a person with his truck. You need to send someone immediately, I think she's hurt badly." Tiffany explained shakily to the dispatcher.
"Holy sweet Jesus...This is the 5th call tonight, we're stretched thin. Where are you?"
"I'm...we're..." Tiffany began. Tim shook his head.
"Don't fuckin' send them here, don't you dare!" Tim exclaimed. "Send them down the block, tell them New Street, down by the cemetery!"
"New Street, near the cemetery! My boyfriend Scott is there with the woman, you'll see his truck!"
"Ma'am, if this is a prank call...We've had several calls tonight regarding crazy shit. I've actually had a man call to say his dead cat dug itself out of his backyard and was standing there on his porch scratching to be let in. We'll send someone when we can, there's no one available right now. All available units have been dispatched. Where are you calling from? What is your precise location?"
"I...I'm calling from a house on---" the phone call abruptly ended when Joey took the cell out of her hands and pressed End.
"Girl, we're not getting arrested over your boyfriend's shitty driving, sorry. Not me, not tonight...not this kid." Joey was adamant.
Tiffany turned in a rage and slapped the shit out of him.
Everyone stood there watching her, not entirely sure what else to do.
"If she's dead, you're fucking responsible for it! How could you do that? How could you?!" She was livid.
"Alright! Alright! Sorry! Holy Jesus stop!!" screamed Joey, covering his head with his arms.
"Alright, fuck this. We're going out there. Yo Tim, can you drive?" John interjected.
"Yeah man, it's cool." Tim answered.
"Are you serious?! We can't go over there! What the hell can we do anyways?" Joey screeched.
Jen looked on apprehensively. She felt like things were beginning to get worse.
"Joey man, get your head on straight! She needs help, she came to us, we're just going to go out there and see what happened. See what we can do. The cops in this town ain't doin shit, and we gotta do something. You ok Jen?"
"Yeah, peachy." Jen lied.
They left the house, got into Joey's (Joey's mom's) SUV, and headed towards the scene of the accident.
Chapter 7.
"Nurse Chow! Wake up Nurse Chow!" Henry exclaimed, flashing the light into her bloodied face.
Fumbling in the dark, Henry had found a flash light in the bureau in the den. Nurse Chow was not responding.
What to do? What to do?
Martin was sitting now sitting on the step above, writing onto his sticky pad "I did bad, I did bad" over and over again.
"Martin, what happened to Nurse Chow?" Henry asked. Martin did not respond, but continued to write. He was now trembling. Henry shined his light about the area. No power, chair lift, bedpan, blood, scissors sticking out of Nurse Chow's neck. Even his slow mind could put together this simple math equation.
"Where are you going Henry? Where are you going?"
"Neils' tank, stupid! Neil's tank!"
Henry continued up the stairs, his flashlight darting this way and that allowing his determined progression. Conrad was standing in the doorway of the bathroom dripping wet and naked, confusion apparent on his face.
"She'll...be...wearing....pink pajamas. She'll be...wearing...pink...pajamas" Conrad half sang, half sobbed to himself.
Henry bustled past, opened a nearby linen closet, retrieved a towel from within.
"Cover your wiener, Conrad!" He tossed the towel to Conrad, and continued on.
An audible wheezing could be heard, as well as a faint tapping. Neil, in his chair had given up on attempting to use the hand held assistance pager. There was no power to operate it, thus making his efforts futile. He has now resorted to rapping on the collapsible flip-board attached to his wheelchair. Henry busted into the room.
"Neil! The power is out, Sammy broke a glass, and Nurse Chow is hurt!" Henry informed, shining his light directly into Neil's face.
"I don't know what to do, what do I do Neil?"
Wheezing heavier, grimacing against the near blinding light, pointed his only workable hand to the stack of paper on the bureau. He made a universal writing motion to indicate he needed a paper and something to write with.
"Ok! Gotcha!".
Neil began writing out instructions.
Can't breathe. Need fresh tank. It unscrews like bottle cap. Check utility closet.
Neil pointed to the shuttered doors across the room.
"Ok!".
Three fresh tanks of compressed oxygen were kept in this utility closet, each containing approximately 5 hours worth of breathable air. Fortunately Neil's motorized chair worked on a separate power source, containing a 48 hour battery. The breathing apparatus simply required unscrewing of the spent tank which was attached to a containment unit held in the back of the chair, and replaced with a fresh one. The tank weighed roughly 60lbs when full. Henry grunted as he hoisted it up from the floor, began carrying it awkwardly trying to accommodate holding the flashlight, and then the tank fell from his hands and landed with a crash that reverberated throughout the house.
"PINK PAJAMAS!" yelled Conrad from down the hall.
"She'll be wearing PINK pajamas!"
Neil clamped his eyes shut tightly expecting to endure the heat of the imminent fireball (on wheels) that he would soon become.
Holy shit...
He thought to himself.
Panicking, and fearful, Henry recoiled from the crash. Luckily the house didn't explode. He quickly grabbed the tank by the nozzle, dragged it over to Neil's chair.
Don't freak out, everything's fine. Good. Now turn me around.
Henry lumbered over, and attempted to grab Neil by the chest. A deep, guttural sound escape from Neil's throat and he rapped his knuckles agitatedly on the flip-board, began writing furiously.
NOT ME, ASSHOLE! THE CHAIR! TURN THE CHAIR AROUND! There's a slot for 2 tanks. Screw the new tank in the empty slot and press the RED LEVER down!
"Ok! Ok!"
The fresh tank screwed in, lever depressed, there was a sound like someone opened a can of Pepsi. A kind of putt-hissss sound, and Neil was breathing normally again.
Thanks Henry, you did real good. Now I know you're afraid, and bad things happened, but you need to be strong. We need to get help. Can you find Nurse Chow's cell phone?

"I don't know, but I think she got hurt real bad."
How bad?
"L-L-Like dead bad. Blood all over and scissors in her neck. I think she's dead Neil!"'
Amazingly, Neil felt quite calm and in control. Being the only one with any real discernable ability for rational thought, was something quite liberating. The wheelchair was not a deterrent for action anymore now that he could relay information. He felt...good! Great, actually. This was scary yet exciting at the same time. As unexpected and impossible as this was, he felt capable and in control for the first time in years.
Everything's going to be alright Hen, but we need to find her phone. The house phone won't work. Need more paper, get the notebook on the desk. Find her phone Henry!
A miracle of nature and science was occurring right down the hall, on the 3rd step of the Healing House stairs. Nurse Chow had punctured her own neck and bled out until her death less than 10 minutes ago. But now her eyes fluttered open. And to Martin's complete surprise, with not an unexpected amount of relief, Sylvia began to slowly lift herself up with the help of the chair.
"Nurse Chow? Nurse Chow!", Martin exclaimed. He was in the midst of writing
'she's alive'
on his yellow sticky pad when suddenly this miracle of nature fell upon him. Her long nails found purchase in the back of Martin's scalp. The immediate sting caused him to bite his own tongue nearly in half and his screams of urgency became gargles of the blood he was now choking on. The miracle inside of her was hungry. Hungry for living human flesh.
Her teeth punctured and tore through his windpipe. Panicking, flailing his arms wildly in efforts of futility, Martin looked on in horror as Nurse Chow pulled the scissors from her own neck and plunged them through his left eye and into his brain. The gargling stopped. Everything stopped. And then his vision became a small dot of light, like someone pulled the plug on his internal TV set; and Martin Tork became quite still.
Downstairs, still in the kitchen, Sammy was petrified with terror. The scant moonlight was shining through the locked sliding glass doors of the kitchen onto the analog clock on the far wall. The clock was perpetually stuck at 9:30. It was irrational and out of Sammy's routine.
The clock just wouldn't move forward. He couldn't go to sleep, not until the clock became 10:07. The stark reality of being awake forever standing in the kitchen completely overwhelmed his mind. He couldn't do anything but stand there in a kind of stasis mumbling, mentally willing the clock to become 9:31. The implications of the clock remaining at 9:30 forever meant it would always be night, the sun would never come up, and he would never watch The Price is Right ever again. Captain Krunch would remain in the breakfast closet forever.
Sammy's entire life was run by the hands of the clock. He might as well be dead if the clock never moved forward. Somewhere a dog barked. Time remained constant. The dog barked again, with greater inflection. The clock was still 9:30. And then the dog's barks turned into howls that suggested the infliction of pain. And then yelps, followed by silence. This was a welcomed distraction. It meant that perhaps it was 9:30 for everyone, even the dog.
Where was the dog? Who owned the dog? Why was the dog barking? Why did the dog stop barking? What could've caused the dog to stop barking?
The rational side of Sammy's mind, the side that wasn't debilitated by the prison of the clock raced through his extremely organized mental file cabinet to find the answers to these questions.
12 Mobile Street. Old Mr. Greyson and his German Shepard seeing-eye-dog. Guests, no...intruders. The dog would defend him. Pain. Death.
Just because Sammy could not express these ideas did not mean he didn't understand them. As with most autistics and those with Asperger's Syndrome, they are debilitated by sensory overload, but their minds are highly active. A man was suddenly banging on the sliding glass doors, a distraught man. Sammy screamed again.
Copyright 2011