Ok. This is it.
I just got off of the phone with the Emery's. We're on. All these articles and all the discussion got my blood boiling for another tour through the old western tourist trap with Franks Bailey Sr.
Independent horror is for the fans. It's constructed from the minds of those who truly want to show their vision, their story.
(gotta show the Gun Town girls here)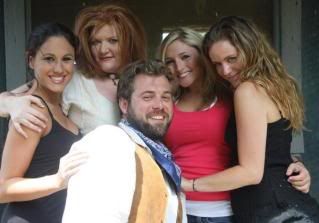 I'm all for the indie filmmaker because I am one. We're out here sacrificing everything we have in order to bring you our best. We don't have health benefits or insurance. We don't have unemployment. We don't have access to the luxurious equipment that the big studios have. I admire any indie guy or gal that puts forth a realistic effort toward their film, and gets it
finished.
Me and many other filmmakers are out there and we want to keep your eyes bleeding with new material.
We can do it if we can support each other. Lots of locals from that area want to see this, we hope you do too.
I've spoken my piece. And now, it's time to start writing. I started a while back and reached page 14. Time to reach the last page, time to cast characters, time to rock and roll. I'm gonna duck down for a while and get things going. I'll be back. Until then...perhaps a little tease of what to expect? I can't just spoil it right away, but I'll say this...
prequel/sequel in one.
Bailey gets a new look.
questions answered from the first one.
night scenes this time.
lots of special features.
...and a SHITLOAD of action/blood/gore. You want horror, you got it.
Updates and news next year.
http://www.guntownthemovie.com